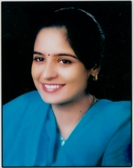 Dr. Amanjot Kaur Award of Academic Excellence was established in the year 2012 on occasion of the First Convocation of the Institute. Cash prizes of Rs. 20,000/- will be awarded to students who bag first position in each MBBS professional examination.
Dr. Amanjot is no longer with us physically, but she will remain always with us as a personification of love, affection, service, dutifulness, dedication and commitment to this profession i.e. service to humanity. We won't exaggerate if we say that Dr. Aman gave a new meaning and dimension to this profession. Her untimely demise is an irreparable loss not only to her family but also to those who admire the services of doctors like Aman.
Dr. Amanjot Kaur was a postgraduate in Obs. and Gynaecology from MP Shah Medical College, Jamnagar, Gujarat. She worked as Asstt. Prof. in Obs and Gynaecology in this institute. Her services to the Medical Profession were appreciated by one and all. She also excelled herself in academics. She had many paper presentations, publications and awards to her credit. She received second prize in scientific paper presentation titled 'Obstetric Hystrectomy' at Bhavnagar in Oct, 1999.
She received Dr CS Dawn prize in 49th All India Obstetrics and Gynaecological Congress at Kochi in Jan, 2006, for presenting a paper.
May this award be a stimulus for students to excel in thier studies and achieve greater heights in their professional carriers! In this award may her memory live forever!