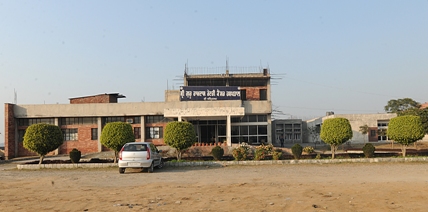 SRI GURU RAMDAS ROTARY CANCER BLOCK
MEHTA ROAD, VALLAH, SRI AMRITSAR
Sri Guru Ram Das Rotary Cancer Block dedicated to the selfless service of cancer patients. It was established in the year 2000 by Rotary Cancer Care Research Foundation & is located on Mehta Road, Vallah, Sri Amritsar. It is increasingly being patronized by patients not only from all over Punjab but is also a referral centre for patients coming from states of Haryana, Himachal Pradesh and Jammu & Kashmir. The hospital has the potential to be a premier medical institution of North India for the diagnosis & treatment of cancer. The patients are provided quality treatment at affordable cost.
Facilities
Radiation therapy, Radiation oncology or Radiotherapy is the medical use of ionizing radiation to control malignant cells. Radiotherapy is commonly applied to the cancerous tumor because of its ability to control cell growth. Radiation may be prescribed by a Radiation Oncologist with intent to 'cure'(CURATIVE) or may be used for PALLIATIVE treatment.
Advancement in Cancer Patients' Care
Linear Accelerator with IGRT, IMRT, VMAT and CT Simulator are functional in Radiotherapy Department.
In our hospital, Radiotherapy treatment is being provided through two modalities:
External beam radiation therapy or Teletherapy :
Relates to beam of radiation delivered externally to the patient from several directions.
The department is equipped with a Theratron-780E (Cobalt) Teletherapy unit.
Teletherapy facilities are supported by computerized Treatment Planning Systems, highly sensitive dosimeters for routine measurements, mould room facility & radiation protection equipments.
In our hospital 80-90 patients are treated per day on Cobalt Teletherapy Unit.
Uses sealed radioactive source placed precisely in close proximity to the area to be treated.
The department has got microSelectron High Dose Rate (HDR) Brachytherapy unit , a dedicated Operation Theatre, a 3D Treatment Planning System ( for CT-based planning) & a X-Ray machine.
In Brachytherapy patients undergo treatment for gynecological malignancies (Ca Cervix, Ca Body Uterus), skin cancers, breast cancers, cancer lung, cancer esophagus, cancer prostate.
We have set-up for giving chemotherapy (Intravenous anti- cancer drugs) to cancer patients.
There are four Air- conditioned General wards and four Private Air- Conditioned rooms with refrigerator & TV facility. Chemotherapy is given on Out Patient basis at nominal charges.
We have qualified staff for the same.
More than 50-60 patients attend OPD daily.
Palliative treatment:
We have qualified staff for counseling terminally ill cancer patients and administering pain control medications.